| | | |
| --- | --- | --- |
| | Law | |
| | | |
| | | |
| --- | --- | --- |
| | Causation | |
| | | |
| | | |
| --- | --- | --- |
| | Experts | |
| | | |
Toxicological terms, glossary. Fact sheet.
Epidemiological and statistical terms, glossary. Fact Sheet.
Regulatory agencies and threshhold standards for chemical exposure, national and international. [See Toxicology & Regulation]
Visual aids in the courtroom: 'showing' black box chemical causation and getting the jury to 'see'causation this way. Short paper.
Science versus Law: similarities and differences and this affects presenting evidence in the courtroom.
Exposure and Dose: how are they related, how are they different and which can you calculate and which can you not? What is the most common method in the peer reveiewed literature for calculating population exposure following a chemical release [Science Toxicology, Exposure Assessment ].
Toxic tort and environmental pollution litigation seek redress through the legal system for injury or damage--or increased risk of such in the future--due to purported chemical exposure. The success of this process depends on melding together two very distinct disciplines, toxicology and the law. Standards of proof, concepts of causation and the very language used differ greatly between the two approaches. Words or phrases that may seem so similar and well understood in one discipline may mean very different things and convey completely different concepts in the other, confusing issues rather than clarifying them.

This section addressess key issues of chemical exposure and toxic injury, identifies key points of confusion and offers ways to present issues and concepts clearly and accurately, to the court, to the jury and in dialoge with the expert.


U.S. District Court approves jury hearing welding fumes and Parkinsonism disease link.
Causation
This may affect as many as 10, 000 welding fumes cases--4,500 in multi-district litigation and another 5, 000-6, 000 in state courts, plus as many as 500, 000 potential cases nationwide.

Welding is widespread in the United States, is a high exposure occupational activity and is frequently not well regulated. Manganese is the main welding fume metal. A close look at the scientific evidence of linkage [ Science of Toxicology, News ].
Clinical findings, [ Toxicology & Medicine ]
Update: Jury rules in favor of defense, no failure to warn. Case does not proceed to causation issue; that issue remains for later case.
Jury find in favor of state of Rhode Island against paint manufacturers for lead contamination.
Exposure and Causation
Ruling will have widespread implications in RI and across the country
Update: Massachusetts Attorney Gen. will not follow with filing suit in Massachusetts.
Chemical Exposure versus traumatic injury
Causation, Analysis
Understanding the differences. The 'black box' approach of chemical exposure versus 'what you see is what you get' of traumatic injury --how to 'show' the jury chemical exposure and injury, and avoid pitfalls in presentation.
Five key steps to establish chemical causation in the courtroom
Causation, Analysis
General versus specific causation--which does a case require and what needs to be proved (or not); effective techniques for presenting your case and avoiding tangents, confusions and the most common pitfalls when arguing general versus specific causation.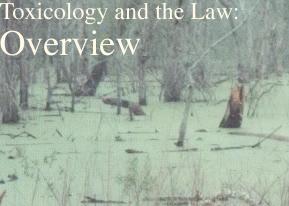 Special Report
Judging the Judges
How well and consistently do judges carry out their 'gatekeeping' role? How well do they understand science? And is this court activity assessed in any way?